Current Job Postings:
Please apply for open positions at Indeed.com:
Open until filled
Open until filled
Deadline: Sept 15, 2021
Deadline: Aug 13, 2021

Dean Statewide Career Fair
Tuesday, June 15 from 8 a.m. to 6 p.m.
Paid CDL training & benefits provided!
Bus Drivers & Attendants apply at www.deantransportation.com/jobs
For additional information, please call (989) 275-9531 or stop by
Stop by 2567 W. Pinewood Drive in Roscommon
(at the bottom of Pioneer Hill - the sledding hill!)
Bus Drivers can check for job postings at Dean Transportation Jobs Site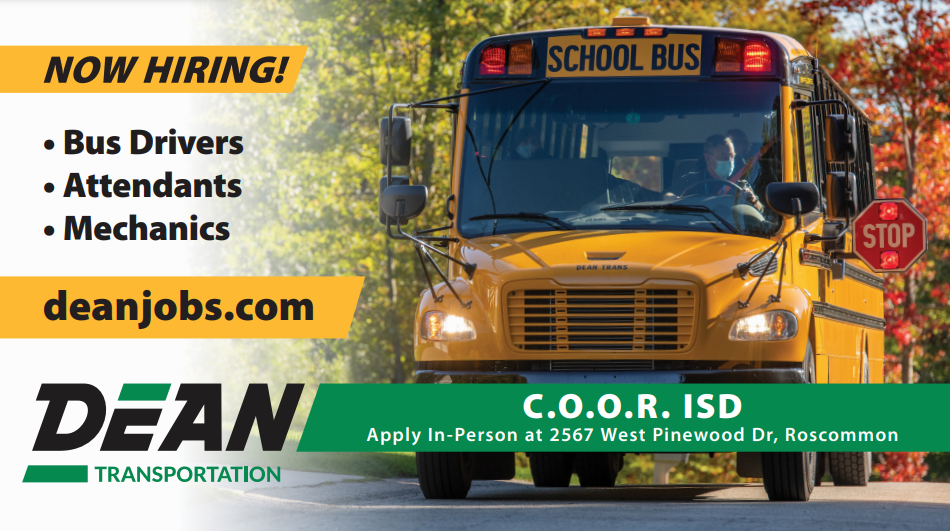 The COOR Intermediate School District gives notice that it does not discriminate on the basis of race, color, national origin, gender, age, height, weight, political belief, religious belief, marital status, or disability in the education programs and activities operated by the District, including employment. The following persons have been designated to handle inquiries regarding the nondiscrimination policies: Special Ed Director, Jill Radosta, 11051 N Cut Rd, PO Box 827, Roscommon MI 48653, (989) 275-9555.