Current Job Postings:
Please apply for open positions at Indeed.com:
Speech and Language Pathologist
Possibility of multiple positions at multiple buildings. Please apply by June 23, 2022 through the Indeed.com Speech and Language Pathologist Posting
CTE Administrative Assistant
Full-time position, year-round. Application deadline: June 30th. Please apply through the Indeed.com CTE Admin Assistant Posting
Recreational Engines CTE Instructor
Part-time position, school year. Position open until filled. Please apply through the Indeed.com Rec Engines Instructor Posting
Automotive
CTE

Instructor

Part-time position, school year. Position open until filled. Please apply through the Indeed.com Automotive Instructor Posting
Paraprofessional Educator
We expect to open a posting for the C.O.O.R. Educational Center this summer for a position starting in the fall of 2022.
School Psychologist
Open until filled - see below (click + sign for details)
School Psychologist
Location:
Full Time Position, within COOR Intermediate School District Area
Salary:
Per Master Agreement Salary Schedule. Tuition reimbursement and compensation for previous experience being offered per master agreement.
Benefits:
Health, dental, vision, life and disability insurance.
Reports to:
Director of Special Education and/or Local Building Principal
Qualifications:
Currently certified by the Michigan Department of Education, Office of Professional Preparation and Certification Services as a School Psychologist or eligible for temporary approval.
Apply to:
Jill Radosta
Director of Special Education
COOR Intermediate School District
11051 N. Cut Road, P.O. Box 827
Roscommon, MI 48653-0827
Application Process:
Submit your Resume' and Letter of Interest electronically to radostaj@coorisd.net Open until filled.

School Psychologist Job Description
Starting Date:
Immediately
Posting Date:
September, 2021

Paid CDL training & benefits provided!
Bus Drivers & Attendants apply at www.deantransportation.com/jobs
For additional information, please call (989) 275-9531 or stop by
Stop by 2567 W. Pinewood Drive in Roscommon
(at the bottom of Pioneer Hill - the famous sledding hill in Roscommon!)
Current wages
As of April 2022, there is a $750 new hire sign-on bonus if you are hired!
Bus drivers currently earn up to $18.10, and attendants up to $15.50. Click here for Dean flyer from April 2022
Why work at Dean?
-Flexible scheduling
-Paycheck every Friday
-Quality benefits
-Paid CDL training
-Family-driven culture
-Advancement opportunities
Bus Drivers can check for job postings at the Dean Transportation Jobs Site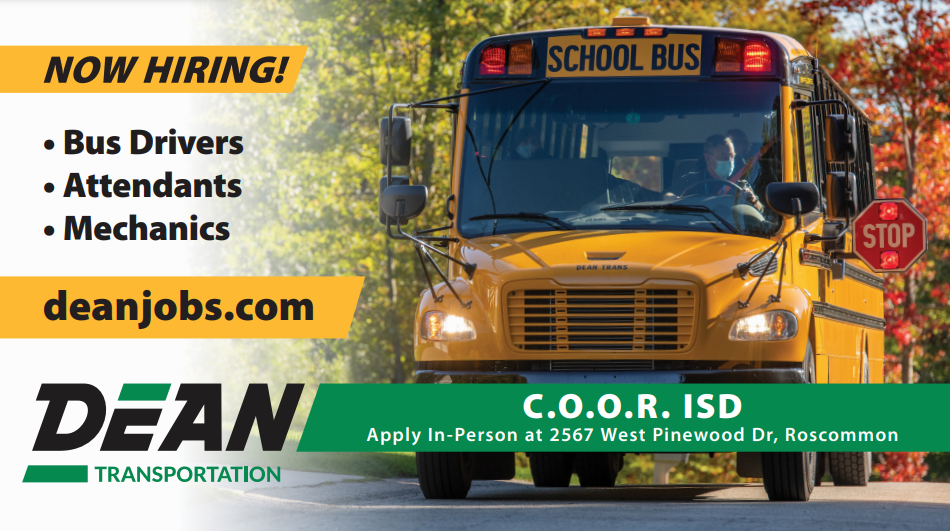 The COOR Intermediate School District gives notice that it does not discriminate on the basis of race, color, national origin, gender, age, height, weight, political belief, religious belief, marital status, or disability in the education programs and activities operated by the District, including employment. The following persons have been designated to handle inquiries regarding the nondiscrimination policies: Special Ed Director, Jill Radosta, 11051 N Cut Rd, PO Box 827, Roscommon MI 48653, (989) 275-9555.